Since 2000, State Energy Inspection Services has continued to expand its operations and abilities by providing premium pipe inspection services to the oil and gas industry. All pipe inspection services we offer are primarily for new and used casing, drill pipe and tubing.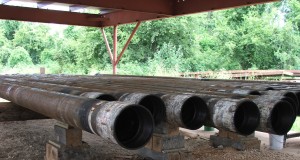 We are a member of the American Society for Nondestructive Testing:
Available Pipe Inspection Services
With over 100 years combined experience in the pipe inspection arena, State Energy Inspection Services is well endowed to provide pipe inspection services at our equipped facility in Houston, Texas.
If you require State Energy Inspection Services to visit your facility to inspect your pipe then take advantage of our Mobile Pipe Inspection Unit and Mobile Power Generator.
To discuss your pipe inspection requirements, please fill out the contact form below or give us a call during business hours from 8:00 AM to 5:00 PM Monday thru Friday at (281) 962-2010 so we may assist you: